Varadero is one of the most beautiful beaches in Cuba and, perhaps the whole world. It is located on the 20 kilometers long Hicacos Peninsula.
In this peninsula, aside from the obvious beautiful beaches everyone needs to spend some time at, there are plenty of activities you can enjoy during your vacation. There are also plenty of choices regarding where to stay; which of these you will choose, depends on what are your priorities and the purpose of your stay.
How to get to Varadero
There are many ways of getting to Varadero, the most popular being taking a Viazul bus. However, you can also book a Cuban taxi or even take a camion if you are adventurous or travelling on a budget.
What to do in Varadero
There are many fun things to do in Varadero! Here we have listed the best plans for families, for backpackers, for those who want to experience the Cuban nightlife, and those who prefer nature tourism.
Things to do in Varadero with kids
Varadero is a family friendly destination, but even kids sometimes get tired of running around on the beach all day. Should that happen, here are some tips on what you can do.
Parque Josone
If you are looking for a place to spend a nice day with your family relaxing and having fun, then the park called Parque Josone is an ideal place for you. Founded in 1940, it is a quiet place in the western part of the peninsula, where you can find a garden, a fountain, and a bridge over a lake, where you can rent a water bike or a paddle boat. Other attractions located in this park are a restaurant and a swimming pool.
Dolphinarium
If you are travelling with children, a good plan, without a doubt, would be to visit the Varadero dolphinarium: a place where they can enjoy a show with dolphins, swim with them, pat and feed them. The show alone costs 20 CUC, but additional services have extra fees: 60 CUC for swimming with them and 5 CUC for photos (you can choose between the photo service of the dolphinarium and bringing your own camera to take them yourself).
Varadero tourist double decker bus
This is an inexpensive way to get around and see Varadero.
It costs 5 CUC per person and is valid for all day, you can get on as many times as you want. The bus moves from 9:30 am to 9:00 pm and loops through all of Varadero.

Varadero for Nature lovers
Playa coral
If you like being in direct contact with nature, and especially the marine life, we recommend you this landscape only 15 kilometers away from Varadero. Playa coral is a beautiful coral reef, where you can find 50 species of corals and 100 species of fish. In this beach you can also do snorkeling, which will cost you 10 CUC and last 45 minutes. Diving costs 25 CUC per immersion, and is vital for everyone who wants to fully enjoy the beauty of the coral reefs.
Varadero Varahicacos ecological park
Varahicacos ecological park is a protected area and a natural reserve. Here you can find many endemic plant species from orchids to cacti, including a more than 500-year-old giant cactus called "El Patriarca", as well as endemic animals such as birds, insects and lizards. If you get tired of sightseeing, you can also rest on the beach in the park. There also are two caves called Cueva de Ambrosio and Cueva de los Musulmanes. Also, in this park there have been found 2,500 years old human remains.
Cueva de Saturno
If you like adventures, then we recommend you the Cueva de Saturno (Saturn Cave) only 2 kilometers away from Varadero. It is a natural underground swimming pool, which you can enter for a price of 5 CUC and spend a day swimming and enjoying the nature as it is.
Free things to do in Varadero
Obviously, it costs absolutely nothing to enjoy the beach! But after a while you might want to do something else. Here are a few ideas!
Mansion Xanadu
If you are a big fan luxury but don't want to spend a penny, you can visit Xanadu. Built in 1929 by French American millionaire Irenee Dupont, the richest man in America of that time, it is made of marble and ceramic tiles. Nowadays, it is a luxury hotel and a golf clubhouse. Even if you are not lodged in the mansion, you can use stroll around the grounds and get a coffee in the hotel's restaurant.
Varadero museum
You can't leave Varadero without visiting the museum of the region and getting to know the history of this wonderful place. Here you can see photos of Varadero in the 40s and 50s years of the last century and expositions old furniture that was used during that time. This place was built in the 1920s and was formerly a beach house.
Nightlife in Varadero
Varadero has an active nightlife, being a popular holiday destination for tourists and Cubans alike.
House of Music (Casa de la Musica)
The House of Music is probably the most well-known club in Varadero. It is relatively expensive (for Cuba) with a $10 CUC cover charge, yet it remains highly popular due to the good music and DJs, great cocktails, and a very pleasant atmosphere in general. Also, there occasionally is a live show featuring famous Cuban musicians or comedians.
In order to keep this blog running this post contains affiliate links. When foreigners think of Cuba, they often imagine…
Potaje Festival (August)
Around an hours drive from Varadero in the colourful town of Colón there is the annual Potaje Festival (loosely translated: concoction festival) with some of the biggest Cuban hip-hop names. If you are into hip-hop and urban music, you should definitely go then.
Best daytrip from Varadero
Bellamar caves
Located not far from Varadero, in the same province of Matanzas, this wonderful place was formed about 300,000 years ago. Here you can see a huge number of stalagmites and stalactites of peculiar forms. Taking a tour to explore the caves is an ideal option for those who seek challenges.
Where to stay in Varadero
There are more than 60 hotels in Varadero, their prices ranging from about 50 CUC per night during the low season and to hundreds of CUC the luxury hotels. The all-inclusive hotels are mainly located to the east of the peninsula, and, as you go towards the west, they are gradually replaced by the dwellings of the locals and Casas Particulares for rent, which are better for budget travelers.
Family friendly all inclusive hotels to stay in Varadero
Sol Palmeras
The all-inclusive Sol Palmeras hotel is a family-oriented resort. There are 408 rooms and 200 bungalows in this hotel with all the necessary perks. There also are many activities for the entire family provided by the hotel's administration. This hotel has pools, outdoor jacuzzies, areas for water sports, etc. The restaurants of this hotel provide numerous options of cuisine from all around the world.
Melia Varadero
In the all-inclusive five-star resort Melia Varadero there are 490 rooms that are split between two categories: some are built in an old-fashioned have and others are modern, with dark-wood furniture and stylish artwork. In this hotel there are two pools with waterfalls, basketball and tennis courts, and a kid club with a pool for small children. The building of the hotel itself is considered by many an architectural wonder. It features hanging gardens and provides some exclusive services such as hydromassage, wedding gazebo, arts and crafts gallery and a golf club
Ocean Varadero el Patriarca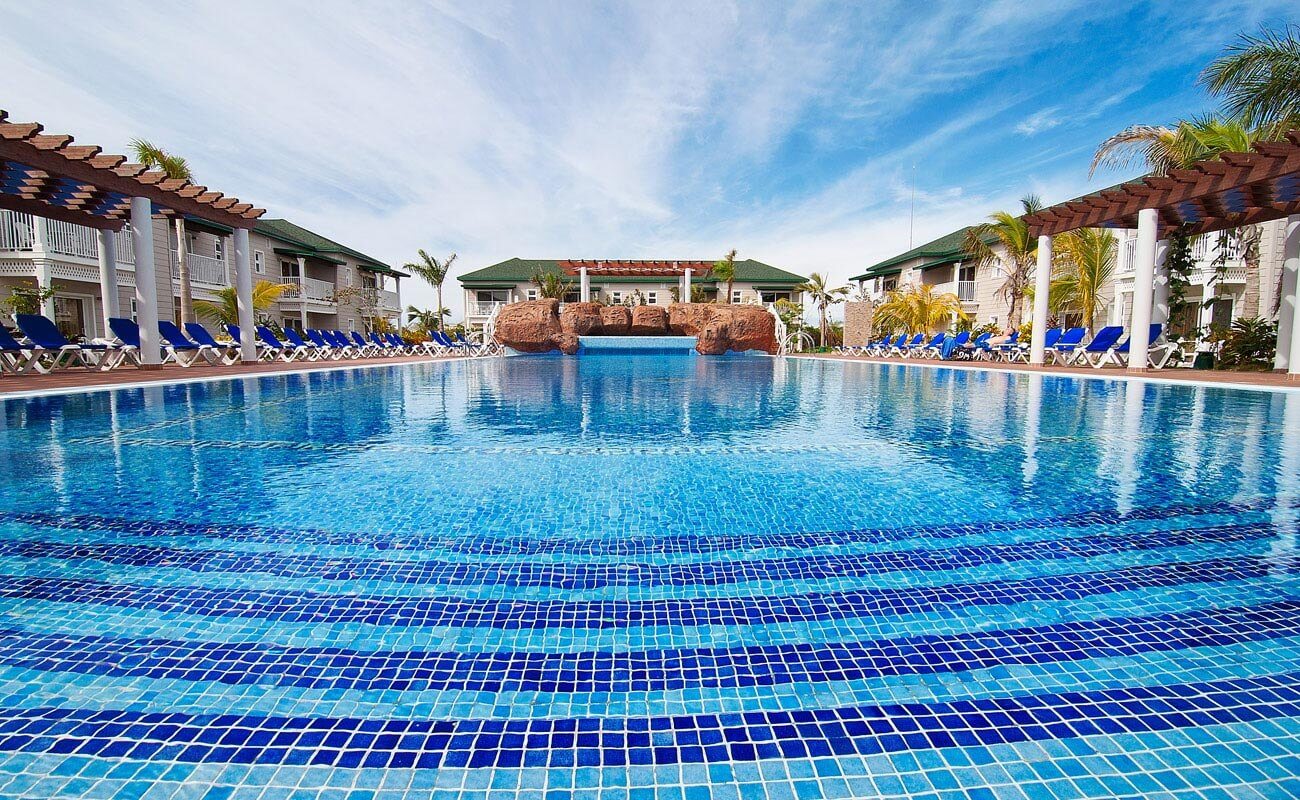 This is the most modern family-friendly all-inclusive in the area. It has 420 rooms with ocean views, a restaurant (which doesn't require reservations) and a piano bar with excellent music. Other features include two tennis courts, one multi-sport court, non-motorized water sports, a theatre, a disco, and a total of four swimming pools.
Paradisus Varadero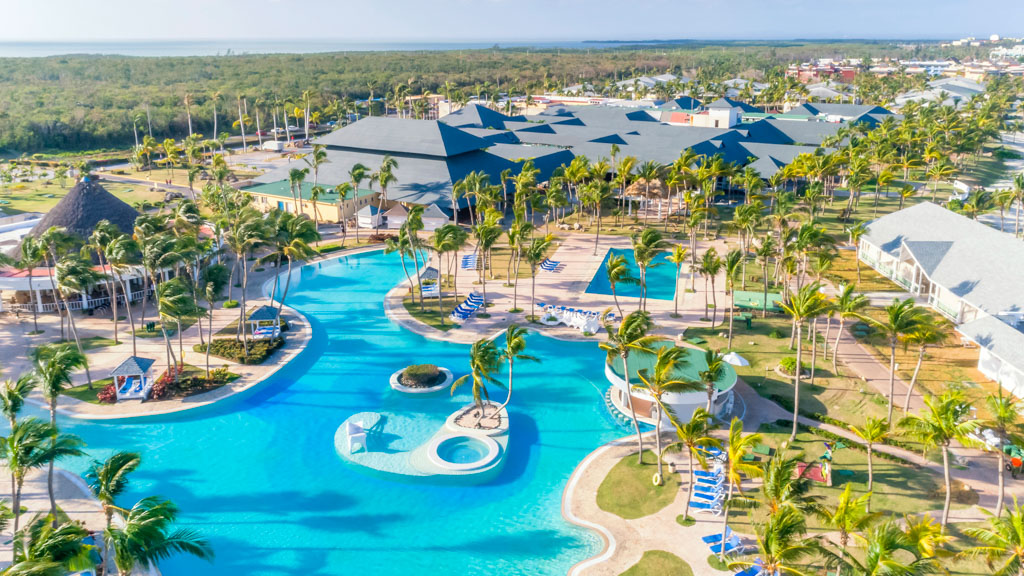 There are 574 rooms in this family-friendly resort, and a large ocean-view pool. The rooms have a traditional style and a free mini bar. You can also choose a royal service room with a higher quality of service. The spa is one of the area's best, and it also features a health center. There also is a mini-club for the kids open until 10 pm.
Adults only all-inclusive hotels Varadero
Melia las Americas
This all-inclusive hotel special because it is for adults only. There are 340 rooms, each one with a balcony with an ocean view; five restaurants, six bars, a gym, a theater and a beauty salon. The hotel advertises itself as emphasizing on personalized service and providing an extensive entertainment program. Due to the beautiful location of the hotel, it is visited on a daily basis not only by its guests, but by all the people spending their vacations in Varadero.
Royalton Hicacos Varadero:
This luxury resort is easily one of the best in Varadero. This hotel is for adults only and there is a true emphasis on personalized service. This hotel provides its guests with a great choice of recreational activities such as yoga, a gym, or a spa. The hotel has 404 rooms with big king-size beds, and a la carte restaurants with excellent seafood.
Paradisus Princesa del Mar
This is a true luxury all-inclusive resort in Varadero and is for adults only. There 798 rooms with elegant furniture and balconies or terraces with either ocean or pool view in every room. This hotel has three pools, two of them with floating bars inside, seven restaurants, a tennis court and a cigar bar, among various other pleasant amenities.
Blau Varadero
Blau Varadero isn't one of the newer hotels around, but it has fantastic service and an a highly established reputation. The 13 floor 4 star beach front hotel is an imposing building, with good quality food and a large pool to relax in.
Budget all-inclusive hotels in Varadero
You don't have to spend a fortune to enjoy Varadero. Keep in mind that all-inclusive hotels in Cuba on the budget side might be a bit worse than what you'd expect. If you're on a constrained budget, it might be best to stay in a Casa Particular for less and spend a bit more on food than a cheap all inclusive.
However, if you insist on a wallet friendly all-inclusive option look no further! There are a few options we can recommend.
Hotel Club Tropical
It is a three-star all-inclusive hotel resort on the beach in downtown area. There are 173 standard rooms, one pool a mini club and a playground for kids. While not as luxury and well-equipped as the five-star resorts in Varadero, it has all the necessary amenities, and is obviously a lot cheaper.
Hotel Villa Sotavento
Hotel Villa Sotavento has a charm, namely that it is housed in a 1960's villa. That being said it is a partially all-inclusive hotel, and reviews say it all … It located in downtown area, but it is only a few minutes away from the nearest beach. In this hotel there are 107 rooms, one swimming pool, and one tennis court.
Best Casa Particulares in Varadero
The best option for accommodation for those who want to visit and not stay in a hotel are Casas Particulares. A "Casa Particular" (meaning "private house") is an inexpensive private accommodation; like a Bed & Breakfast (B&B), usually rented for short stays.
It can be a room inside a house (usually with a private bathroom), a mini-apartment, or a studio. You can also find full-apartments, villas, and houses for long-term vacation rental. Staying here will guarantee you the possibility to freely move around and between cities, which is important, as most of the closest natural tourism spots are located outside Varadero. These houses are located in downtown areas close to the city and, in Varadero, its price range is usually between 30 and 45 CUC per room per night, and between 70 to 100 CUC per night for a whole house.
Casa Colonial Henry
Henry's place is a beautiful old colonial house on the southern side of Varadero. It fits 6 people, but unfortunately the upper floor was taken away from Henry's family after the Cuban revolution…
Cheapest place to stay in Varadero for Backpackers
The cheapest place to stay in Varadero are there casas particulares of Varadero.
There are no backpacker hostels in Varadero.
However, there is also an option to stay just outside of Varadero in the neighbouring town of Santa Marta. There are a good amount of economical Casas Particulares there.
If you want to get some inside tips you can hire a local to help you plan your trip to Cuba. ViaHero is a trip planning platform that will connect you to a local in Cuba to plan your legal trip to Cuba and get a completely customized travel itinerary with offline maps and recommendations from locals in Cuba.