Every tourist entering Cuba, aside from their passport, most have another important document: a Tourist Card Visa.
This is also known as a Cuban visa by many.
There is another document which is a Visa, and it is for people who cannot obtain a Tourist Card Visa. Don't fret, we'll explain.
Do I need a Cuban Visa?
As a requirement from the Cuban government will need a Cuban visa (not the Tourist Card sort) if you are a visitor from the following countries: Afghanistan, Bangladesh, Cameroon, Eritrea, Ethiopia, Ghana, Guinea, India, Iran, Iraq, Jordan, Kenya, Nepal, Nigeria, Pakistan, Philippines, Sierra Leone, Somalia or Sri Lanka.
This is an old fashioned visa. If you are a citizen of these countries you must get the visa before travelling to Cuba at your local embassy, present them with documents etc.
If you are not a citizen of those countries, you do not need an old fashioned Cuban visa. It is likely you will need a Cuban tourist card though.
What is the Cuban Tourist Card Visa?
The Cuban government requires most visitors to buy a Tourist Card Visa to enter the country. Think if it not so much as a visa, but rather as an entry tax.
The card grants you permission to stay in the country for 30 days (90 days in the case of Canadian citizens) and can be extended if necessary for 30 more days for the price of $25 CUC.
Do I need a Cuban Tourist Card?
Citizens of the USA, UK, Canada and most of Europe need a tourist card.
It is compulsory to get the tourist card for travellers from almost all countries, the only exceptions being: Antigua and Barbuda, Armenia, Barbados, Belarus, Benin, Bosnia, China, Dominica, Grenada, Macedonia, Malaysia, Montenegro, Mongolia, Namibia, Russia, Saint Kitts, Saint Lucia, Saint Vincent, Serbia, Singapore, and Vietnam.
A key thing to keep in mind is that airport personnel might not know that you do not require a tourist card. Serbians and Russians have reported to have been forced to buy a tourist card needlessly when flying from the US.

What kind of Tourist Card do I need?
There are two types of Cuban tourist cards: pink and green ones.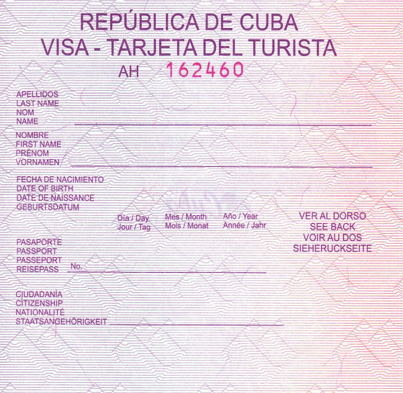 The pink tourist card are required from people of any nationality who travel to Cuba from or through the USA.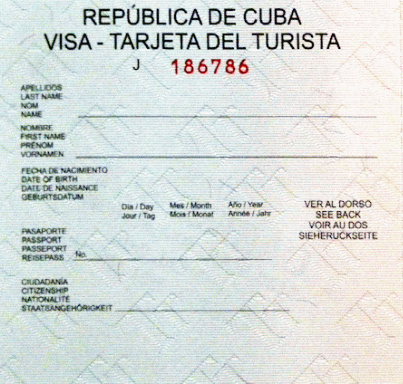 Green tourist cards are for the rest of the world. If you are a US citizen, but travel to Cuba from another country, you need to get a green tourist card.
There is a noticeable difference in price between both cards: while a green tourist card would usually cost you no more than $20-25, the prices for pink tourist cards available in the US start from $50, and can reach more than $100.
Do Americans need a special visa for Cuba?
The short answer: no. Americans need a pink Tourist Card if they are flying from the US and a green Tourist Card if they are flying from elsewhere. The tourist card is the only requirement of the Cuban government for American visitors.
The US government has other requirements for Americans travelling to Cuba. You may have heard of terms such as People to People Cuban visa or Support for the Cuban people visa. These terms refer to the travel license to go to Cuba. It might sound complicated, but it isn't.
Where do I get a Cuban tourist card?
It may be included in the plane ticket by your airline. Very few airlines (mainly the ones flying from Canada) do this, but some distribute the cards on board, with the price being included in the plane ticket.
You may buy it at the boarding gate while checking in. This option is available in many airports, but you should still make sure that your airline does sell the cards at the gate in advance, as some do not have this service.
You may buy your card online. While seemingly being a very safe way to get your card, the problem with buying it online is that you will not only have to pay extra money for the shipping, many companies that sell tourist card charge a higher price than embassies and airlines. Thus, while the usual price for a green card is $25, on these sites it usually is around $35. This is still the easiest and safest option.
You can buy it from the Cuban embassy in your country. This is a good option, because the cards are available at all embassies, and you won't have to depend on your airline, and the embassies don't charge an extra price for the card.
It may be included in your package. If you are buying a tour package, make sure to ask whether the tourist card is included in the price, or you have to buy it yourself. However, most tour companies will provide their clients with the card, so if this is your case, you probably won't have to worry.
You may buy it at the airport on arrival. Tourist cards are also sold in Cuba for those tourists who forgot to get the card before departure, or have made mistakes while filling in the cards. However, it is not a suitable option for everyone, as some airlines will not allow you to board if you don't have your tourist card. Also, it may take a long time, during which you won't be able to leave the airport, and the prices are higher than if you buy in advance: a green tourist card will cost you $75 on arrival.
The following table represents the available options for every airline that has flights to Cuba, and the prices of the tourist cards on these airlines.
Airlines and Airports selling tourist cards
This table is incomplete, and things can (and do) change with time. Please drop us an email if you see something that is incorrect, missing or out of date.
| | | | | |
| --- | --- | --- | --- | --- |
| Airline | Included in the ticket | Available at the gate | Required for boarding | Price |
| Air Canada | Yes | – | – | – |
| Air Caraibes | | | | |
| Air Europa | No | No | Yes | – |
| Air France | No | Yes | Yes | $25 |
| Aeroflot | No | No | No | – |
| Aeromexico | No | Yes | No | $20 |
| Alitalia | No | | | |
| American Airlines | No | | Yes | $85 (when buying online) |
| Aruba Airlines | | | | |
| Blue Panorama Airlines | No | Yes | | $30 |
| British Airways | No | | Yes | |
| Caribbean Airlines | | | | |
| China Eastern Airlines | | | | |
| Condor | No | Yes | No | $25 |
| Copa Airlines | No | Yes | No | $20 |
| Corsair | | | | |
| Cubana | No | Yes | | $20 |
| Delta Airlines | No | | Yes | $50 (when buying online) |
| Eurowings | No | Yes | Yes | $25 |
| Flexflight | | | | |
| Iberia | No | No | Yes | – |
| Intejet | No | Yes | No | $20 |
| Jet Blue Airways | No | Yes | Yes | $50 |
| KLM | No | No | No | – |
| LATAM Airlines | No | Yes | No | $20 |
| Norwind Airlines | | | | |
| Southwest Airlines | No | | Yes | $50 (when buying online) |
| Sunwing | Yes | – | – | – |
| TACA | No | Yes | No | $20 |
| TUIfly Netherlands | Yes (only for Europeans) | _ | _ | _ |
| Turkish Airlines | | | | |
| United Airlines | No | Yes | Yes | $75 |
| West Jet | Yes | – | – | – |
Cruise ships and the Tourist Card
However, not everybody travels to Cuba by air. In the recent year, cruise tours to Cuba have been gaining popularity. If you arrive to Cuba by sea, you still need the same tourist card as when you do so by plane. These cards are not included in the price of the ticket.
You may acquire the card independently before boarding the ship; however, the cruise companies such as Royal Caribbean usually offer to add its price to your account, thus allowing you to save time. In this case, the prices for green tourist card start from $50, and for pink ones from $75 CUC.